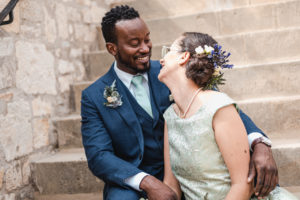 It has already been two month that we celebrated our wedding with us. We enjoyed the day very much and the two months afterwards passed in an instant. In the meantime we managed to get in touch to say thanks to (almost) all our guests and everyone who us their best wishes. And with the others we will get in touch shortly. But today we would like to share already our wedding clip with you that allows us to relive the moments.
The Wife & The Husband
Nun ist es schon genau zwei Monate her, dass wir mit euch unsere Hochzeit feiern durften. Wir haben den Tag sehr genossen und die Zeit danach ist wie im Fluge vergangen. Inzwischen haben wir es geschafft uns bei (fast) allen Gästen und Gratulanten zu bedanken. Und bei den übrigen melden wir uns ebenfalls in Kürze.  Heute möchten wir aber endlich unseren Hochzeitsclip mit euch teilen, mit dem wir den Tag noch mal nach empfinden können.
Die Ehefrau & der Ehemann